YouTube is the most popular video-sharing platform and the second largest search engine. From education to entertainment, there is content for everyone on the platform.
As the number of users grows on a platform, having a rigorous verification system is essential to prevent plagiarized content, spam, impersonators, and fake accounts.
To mitigate these potential problems, YouTube offers creators the ability to get a verification badge on their channels. This badge helps you build your brand, verify your identity, and become an established creator on the platform.
In this article, we will guide you through the steps of getting your YouTube account verified.
Types of verification on YouTube
Before we discuss the steps required to verify your YouTube account, we need to understand the two different types of verification you can get for your YouTube account.
YouTube account verification
YouTube uses account verification to ensure that a new user is an actual person, not a bot.
It is not to be confused with the Verification Badge. Account verification is a simple process, which anyone with a valid mobile number can complete.
Youtube offers some features to only verified accounts, and unverified accounts cannot access these features.
Having a verified account allows you to:
Upload videos over 15 minutes long.
Add custom thumbnails to your videos.
Live Stream content.
Appeal Content ID claims.
Although getting your Youtube account verified is a straightforward process, Google has put an upper limit on the number of accounts linked to a single phone number. This helps prevent abuse of the platform from fake accounts.
YouTube verification badge
YouTube verification badge is a small gray checkmark or music icon next to a YouTube Channel name.
The verification badge does not offer any additional features to the user. However, it is a symbol of authenticity and can prevent copycat accounts from stealing your channel traffic.
Unlike YouTube account verification, only users who fulfill eligibility criteria get the YouTube verification badge.
As of September 2019, your channel needs to fulfill the following criteria to get verified: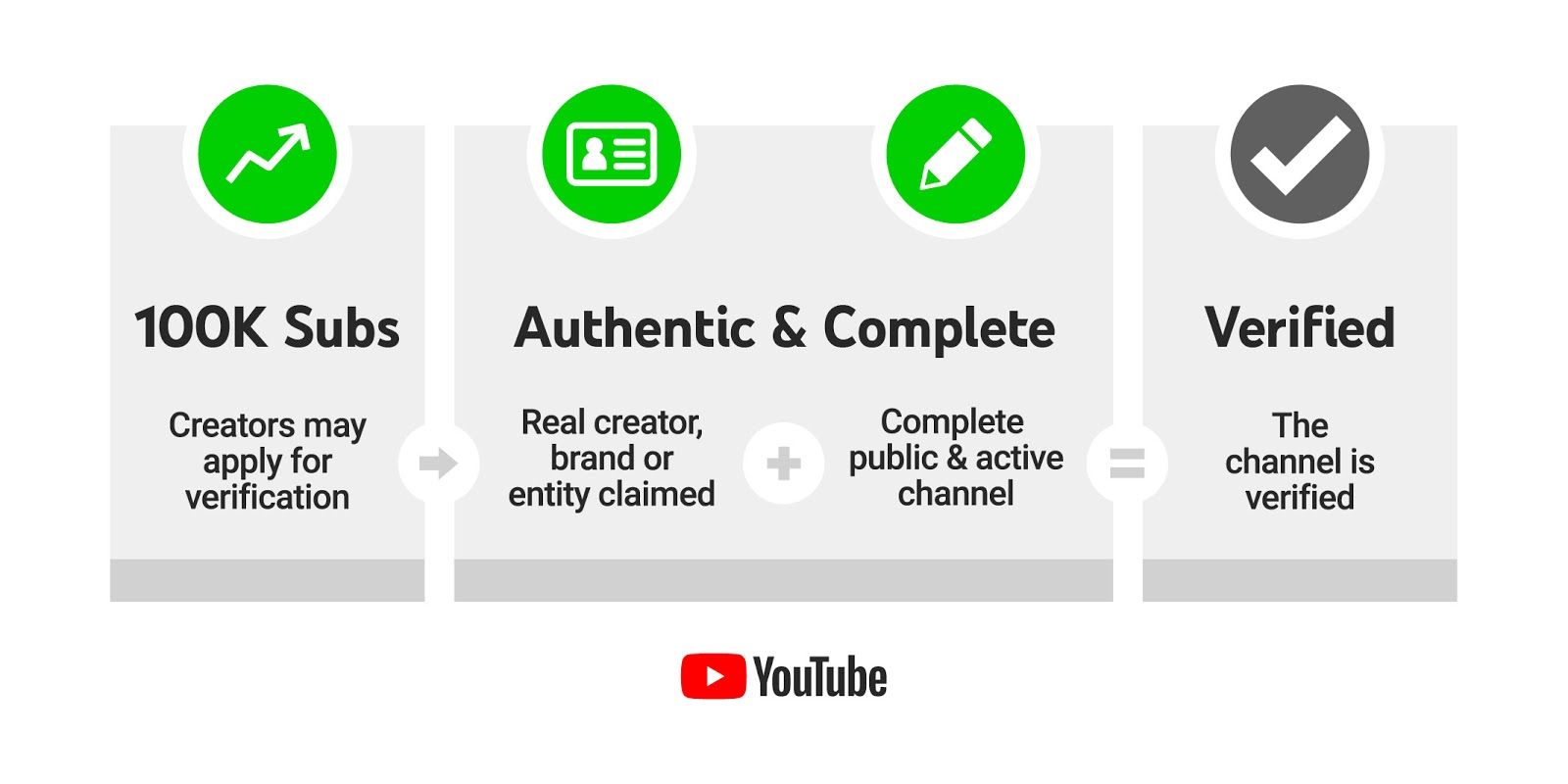 100,000 Subscribers:  
If you have less than 100,000 subscribers, you cannot access the application form for the YouTube verification badge.
Authentic:
Your channel must represent the real brand, creator, or entity it claims to be.
Complete:
Your channel must be an active public channel with a channel icon, description, and content.
Apart from the initial criterion of only having over 100,000 subscribers, YouTube is now committed to verifying prominent channels by verifying their authenticity.
Sometimes YouTube makes an exception to the rule of having over 100,000 subscribers if the channel has earned significant recognition outside the platform.
How to verify a YouTube account?
For verifying your YouTube channel, you will need a stable internet connection and a valid phone number.
You can verify your YouTube account by following these steps:
Open Youtube.com on your internet browser.
Login to your YouTube account.

Scroll down the left toolbar to find the Settings tab and click on it.

In the Feature Eligibility tab, the Features that require phone verification section will have a gray Eligible icon next to it.
Click on the arrow sign next to the Eligible icon and tap on the VERIFY PHONE NUMBER button at the bottom.

On the Phone Verification page, you can choose to receive a Text or Call with a verification code.
Select your Country of residence from the drop-down list and enter your phone number.
On the next page, Enter your 6-digit verification code and click on the SUBMIT button at the bottom.

You have successfully verified your account.

Now the Features that require phone verification section will show a green Enabled icon. You can access these additional features.
How to get a YouTube verification badge?
As discussed earlier, the steps for getting a YouTube verification badge are more complicated.
To access the verification badge application form, you first need to have reached 100,000 subscribers.
Once you have reached the 100,000 subscribers milestone, you can follow the steps given below to get a YouTube verification badge on your channel.
Go to the YouTube Help page for Verification Badges on Channels.

You have now completed your verification application. YouTube will now review your application to ensure that your channel fulfills the other criteria for a YouTube verification badge.

Once the process is complete, you will receive an email from YouTube Creator Support Team informing you that your channel is verified.
Your channel name will have a gray checkmark or music note next to it.
How to keep your YouTube Verification Badge?
Now that you have the verification badge, you need to be mindful of a few things to keep the coveted gray check-mark.
To ensure your channel stays verified:
Conclusion
YouTube verification badge is a useful tool for content creators to build a personal brand. It also prevents impersonators and copycat accounts from stealing traffic from the original channel.
However, if your channel does not qualify for a verification badge yet, do not lose heart. You can still build your personal brand and get more traffic with unique content while actively engaging with the audience.