Windows 10 has quickly become Microsoft's flagship (and perhaps most successful) operating system to date. One of the main reasons Windows 10 is so loved is its streamlined and simplified features compared to its previous versions. One of the features simplified in Windows 10 is the ability to check for updates, and if needed, update your operating system with just a few clicks. This guide will demonstrate the easiest methods which you can use to update your Windows 10 to the latest version for free.
First method: Update Windows 10 in settings (easiest way)
This first method is the easiest way to check if you need and (if needed) to install a Windows 10 update.
Step 1
The first step is to click on your start menu and type in "Updates". Then, click on "Check for Updates" (the 1st option in the screenshot below):
Step 2
It might say "your device is up to date", or that there are updates available. If it says your device is up to date, click on "Check for Updates" again. It should begin checking your Windows 10 device for any updates required.
If it shows that updates are available from the beginning, Windows 10 will automatically begin downloading the updates.
Step 3
After checking your Windows 10 for updates, it might be that your device is already up to date, in which case you will get a message with a green tick saying "You're up to date". In this case, no further action is required on your part.
If, however, your Windows 10 is not up to date, then a message will come up saying "Updates are available". In this case, Windows will start automatically installing the available updates. In addition, you will be able to see the status of each update (e.g., download, pending install, awaiting restart, completed).
You can continue to use your Windows 10 device as normal as the updates are going on in the background, although they might slightly slow down your system. Additionally, Windows 10 might prompt you to restart your computer – you can decide to restart it later, but bear in mind that updates won't be fully installed until you've restarted your computer.
The next time you restart your computer, you will see the following blue screen. Ensure you don't close your computer as the updates are going on, to ensure a clean installation of the Windows 10 updates.
Once the update process is completed and your computer opens again, the update process should be completed.
Second method: Download the latest version of Windows 10 from Microsoft's website
In this second method, we will go directly to Microsoft's website and use the "update assistant" to install core Windows 10 updates for our device automatically.
Step 1
Go to https://www.microsoft.com/en-us/software-download/windows10 and click on "Update now"
Step 2
They will prompt you to begin installing a .exe file. Save the file and run it once it finishes the download. This will launch the Window 10 update assistant.
Step 3
When the Windows 10 update assistant launches, it will quickly scan your computer for any new updates. If a new update is required, select "Update Now".
Step 4
After clicking on "Update Now", Windows 10 will make sure your device meets the minimum requirements and is compatible with the update you are installing. If it says your PC is compatible with the update. Click on "Next".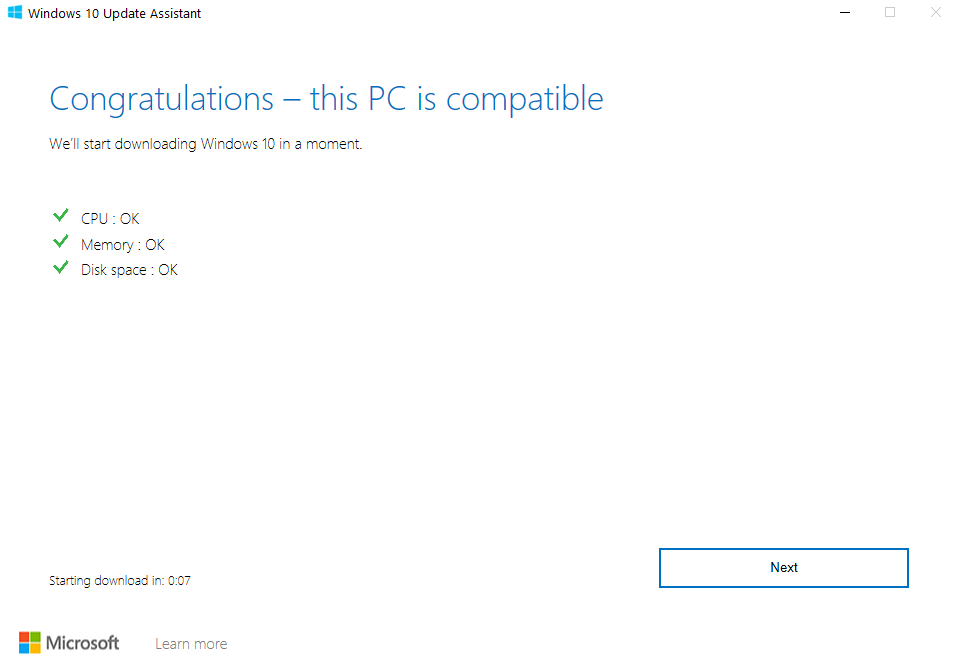 Step 5
You will then see a screen saying, "Getting your update ready". Once this reaches 100%, the Windows 10 update will be ready to install.
Step 6
To begin installing the Windows 10 update, you can either select "Restart", or wait for the timer to automatically restart your computer for you (within 30 minutes). Ensure you save any work at this stage, as you might lose any unsaved work when your device restarts.
As your computer is restarting, you will see this blue screen indicating that the update process is in progress.
Once the update has completed and your laptop/device has finished booting, the Windows update process has finished. Congratulations!
How to see which updates have been installed on Windows 10
If you have completed your updates, or you want to see which previous updates have already been installed, Windows 10 makes this straightforward for its users.
Step 1
Go to Windows Update in settings (click on your start menu and type in "Updates". Then, click on "Check for Updates" as below)
Step 2
Once you have this page open, select "View update history".
Step 3
This page allows you to see the latest updates that have been installed onto your Windows 10 device. Clicking on the update's name will also open a link to Microsoft's website, showing you what features were added/fixed in that specific update.
Summary
Windows 10 has streamlined the updates process and made it so that even Windows novices can easily update their device. A feature is directly integrated into the Windows 10 operating system (Settings > Updates & Security) which checks your device for any new updates and automatically installs them. There is also the option to download an "update checker" tool from Microsoft's website. Both of these methods are safe, easy, and effective.