When editing a PowerPoint presentation, you must add, delete, and reorganize your slides. Knowing how to organize your slides is an essential skill to have. This guide shows you how to add, remove, and re-arrange slides in all versions of PowerPoint.
Adding new slides
Duplicating a slide
You may want to duplicate a slide to avoid retyping content and save time when making minor changes.
Select the slide you want to duplicate on the slides panel on the left.
While on the Home tab, select the New Slide dropdown and click Duplicate Selected Slides.
Deleting a slide
On the slides section, right-click on a slide thumbnail and select Delete Slide in the dropdown list.
Alternatively, select a slide, then press DEL on your keyboard.
Organizing your slides
To arrange your PowerPoint slides, go to the slides section and drag a slide up or down to its new location.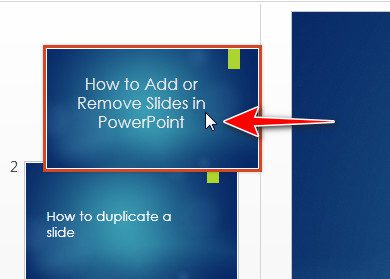 Was this article helpful?
Let us know if you liked the article, so we can improve it for other readers.