Using PowerPoint templates saves you time when creating new presentations. You can also create a template to share with colleagues, friends, or online so others can use or build on your styling. This guide shows you how to create a PowerPoint template for all versions of PowerPoint.
Customizing your presentation
A PowerPoint template is created either from an existing or a new presentation. If you have an existing one, you can skip this section.
Slide Master
Open a blank presentation and go to the VIEW tab.
Click Slide Master in the "Master Views" section. The Slide Master applies any edits you make to every slide in the presentation.
Set presentation size
Select the first slide in Slide Master. Then, click on Slide Size in the "Customize" section. Ensure the size is set to Widescreen (16:9) if you use large, modern screens like a laptop. Or Standard (4:3) for smaller and older monitors.
Set presentation template, colors, and background style
Next, choose a theme for your presentation template. The theme ensures that your template looks organized and neat. Select Themes and choose a theme style depending on your preference.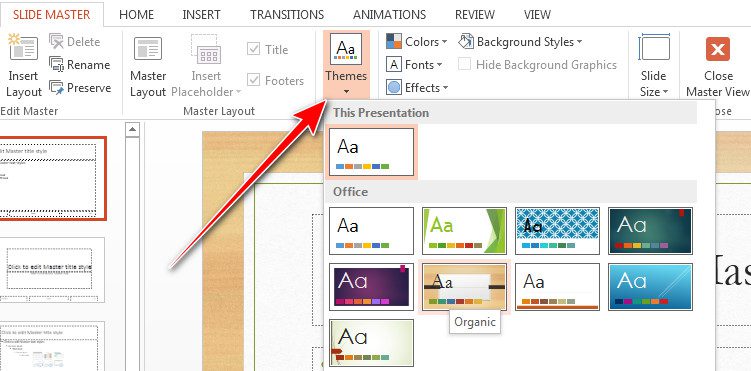 If you want to create a custom theme color for your presentation, select Colors and click Customize Colors…
Choose the colors you want in the "Theme colors" section. Click Save when you are done.
To apply the custom theme color, click Colors and select the name of the theme color you have created.
Next, set a background style for your slides. Select Background Styles, then choose a style of your choice. You can use an image or a preset background style.
Insert a logo (optional)
If you have a company logo that you want to appear on every slide in the template, insert the logo in the Master Slide. Select the first slide in the Slide Master, click the INSERT tab, and select Pictures.
Saving a PowerPoint presentation as a template
How to open a PowerPoint template
Select Open, then click Browse.

Select Browse.

Select All PowerPoint Presentations and click PowerPoint Template.

Click the option PowerPoint Templates.

Navigate to where you saved your template. Then, click the "File Name:" drop-down arrow and select the template from the list.
How to apply a template to an existing PowerPoint presentation
You can copy and paste your document into the template to apply the styles. Follow these steps to do it:
Open your presentation and select any slide in the slide section. Press CTRL+ A (Command + A on Mac) to select every slide, then click Copy from the top ribbon.
Was this article helpful?
Let us know if you liked the article, so we can improve it for other readers.