Torrents offer a convenient way of sharing files through a P2P (Peer-to-Peer) network, and uTorrent is one of the most widely used torrent clients. It offers an easy-to-use interface and is available for Windows, Mac, Linux, and Android. uTorrent is still not available on iOS/iPadOS.
Although torrents are commonly associated with pirating, many uses for them do not involve violating copyright laws. Torrenting is an easy and accessible method to safely share files without relying on a single server or compromising download speed. While torrenting itself is not illegal, you should not use it for sharing or downloading copyrighted. Hence when using uTorrent, it is important to make sure the content you are downloading is legal.
This article provides a detailed step-by-step guide for downloading, installing, and using uTorrent on your PC.
What is uTorrent, and what versions are available?
Despite many torrent clients available, uTorrent has maintained its position among the best torrent clients with a user base of over 150 million. In this section, we discuss some of the prominent features of this software and the different versions available to users.
Features
uTorrent for PC currently offers two different versions: uTorrent Classic and uTorrent Web. uTorrent Classic is a desktop app, while uTorrent Web allows you to download torrents through your browser without installing any software. The main features of uTorrent include:
Bulk downloads: It allows you to download multiple torrents in parallel
Bandwidth optimization: It optimizes your system's bandwidth to offer you the best possible download speed
Scheduled downloads: You can set a date and time for your downloads to start, stop, or seed
Remote connection: You can add new downloads to your uTorrent remotely from your phone or browser
uTorrent classic versions:
uTorrent classic has four different versions you can choose from. Although the free version offers all the basic features needed for torrenting, the paid versions have premium features such as an in-built antivirus and no ads.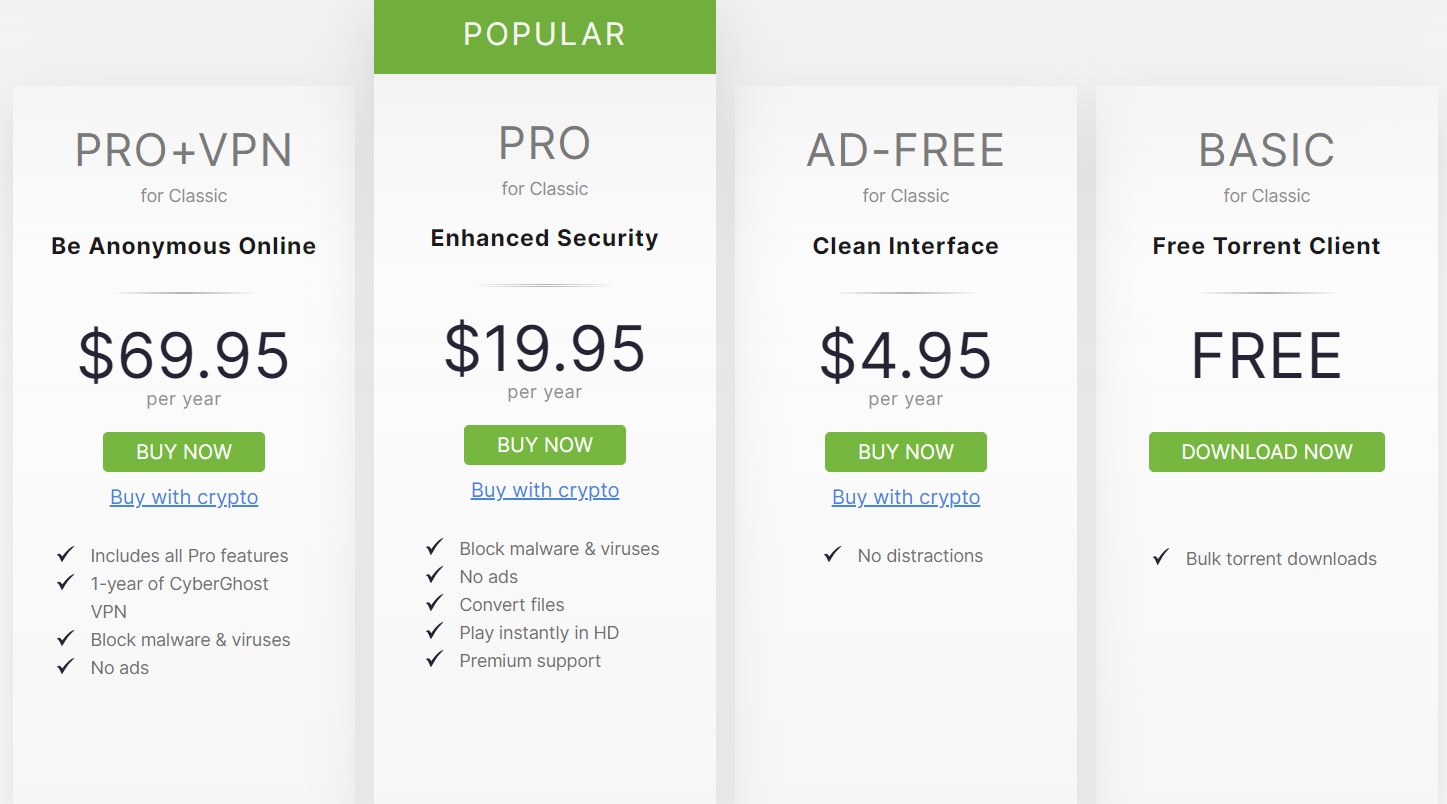 Source: uTorrent Website
How to download and install uTorrent on PC
Before you start using torrents, we recommend using a VPN to secure your connection. Besides protecting you from getting in trouble with your ISP (for users that are pirating), it will also protect your system from malware. In addition, using a VPN is also an easy way to bypass speed throttling for torrents from ISPs.
Once you have set up a VPN and your connection is fully secure, you can follow these steps to download uTorrent on your PC:
Open uTorrent.com on your browser.

On the next page, you will see a brief comparison of uTorrent Classic Versions. Select one that best suits your requirements. Unless you are an advanced user and want an ad-free client, you can opt-in for the free download.

Wait for the download to complete.

Click on the downloaded .exe file.

Make sure that you do not accept any Optional Offers accidentally. uTorrent is known to bundle their installer with offers such as browsers and toolbars – click on Decline.

The installation process will start once you have accepted the License Agreement and default Install Options and Configuration.

Installation is complete. You can now launch the uTorrent app.
How to use uTorrent on PC
After installation, we can now use uTorrent for downloading torrents.
Where to find torrents to download
Unless you already have a torrent file or source, we need to select a torrent website for finding and downloading our torrents. There are many websites like Archive.org that offer a variety of copyright-free torrents, such as freeware and educational materials. You can find a list of trusted torrent sites here. Other websites like The Pirate Bay also offer torrents that can be copyright-free, although they are mostly known for offering pirated content.
How to download the torrent using uTorrent
Once you have selected a torrent site, you can follow these steps to use uTorrent for downloading torrents. For this guide, we will download a torrent from Academic Torrents.
Open the website you want to download torrent from.

You will get a list of torrents. The ones at the top are the healthier torrents with more seeders than leechers. Select a torrent and click on it. You will always want to select a torrent that has more seeders than leechers.

A new page will open with details of the contents of the Torrent. On this page, there will be a magnet-shaped icon known as a magnet link. You can click on this link to directly open the torrent file in uTorrent. It will be prompt you to open uTorrent.

You can also right-click on the magnet icon and copy the URL (magnet link).
Now in uTorrent, click on File and select Add Torrent from URL. Paste the URL, and the download will open in uTorrent.
An alternate option is to click on the download button and download the torrent file.
The torrent file will download fast. Click on it to open the file in uTorrent.
You can also open the torrent by opening File menu in uTorrent and clicking on Add Torrent. You can now find the file from your local repository and open it.

As the file opens in uTorrent, you will see different options to select from. In the Torrent Contents section, you can select the files you wish to download from the Torrent.
On the left, you have the option to select a download location for your file. If you do not choose a location, your file automatically downloads to the default uTorrent repository.
Your torrent is now downloading. You can now see the download progress of your Torrent.
How to increase download speed in uTorrent?
Now that your download has started, you can explore different download options for your torrent. In this section, we discuss a few simple tricks that can help you speed up your download.
Bandwidth Allocation
Right-click on the torrent, and a new tab with options will appear.
In the Bandwidth Allocation tab, you can select a Low, Normal, or High speed for your torrent. Select the High option. If you have any other active torrents, you should set their bandwidth to Low. This way, uTorrent will prioritize your current download over other active downloads.

You can also set a Download Limit for your Torrent. For getting the maximum download speed, keep it unlimited.

In the Upload Limit section, you can reduce the upload limit, but keep in mind that uTorrent deploys a mutual fair sharing algorithm. Therefore, if you reduce your upload bandwidth limit too much, it will reduce your download speed.
Queueing Options
If you are downloading multiple torrents at once, you can make a simple change in the Queueing options to maximize the download speed for your current download.
The left pane contains several different options.

Click on the Queueing preferences. In this tab, you can change the Maximum number of active downloads to 1 to improve download speed.
While it is tempting to download multiple active downloads simultaneously, setting this value to one ensures that you get this active torrent fast.
Setup Guide
We have discussed a few manual changes to help you get a better download speed for your torrents. uTorrent also offers a Setup Guide tool that can help you optimize the bandwidth allocation to maximize your download speed based on your internet connection speed.
These tests check the speed of your internet connection and auto-configure the bandwidth settings for best performance.
Click on the Save & Close button on the bottom right.
How to schedule downloads on uTorrent
uTorrent offers users the flexibility to schedule downloads for the entire week. You can set a download speed for each hour of each day. You can turn off downloads for hours when you need the bandwidth for other purposes. During idle hours you can set the speed to full.
You can easily schedule your downloads with the Scheduler by following these steps:
Open the Options tab in uTorrent and click on Preferences.
A new window will open. In this window, select Scheduler from the left pane.

Check the Enable Scheduler checkbox to change the scheduler table. As shown in the table, each speed has a color code.

In the scheduler table, you can select an option for each hour of each day of a week. All hours are set to Full Speed by default. You can change the default option to Limited, Turn Off, and Seeding Only by clicking on the box.
If you select the Limited option, you can manually enter a maximum upload and download rate.
How to use uTorrent Remote
uTorrent remote feature allows you to manage, monitor, and add/delete downloads on your desktop from your phone or tablet. In this section, you will learn to keep tabs on your torrent downloads remotely.
Open uTorrent on your PC. In the Options tab, click and open the Preferences window. In the left pane select Remote.

 Make sure that the Enable uTorrent Remote Access checkbox is checked.
Install the uTorrent app on your mobile.

Open the uTorrent app and click on the computer icon on the bottom right of the app.

A 4-digit pin will appear on your screen. Remember this pin.

On your desktop app, you will get a prompt to enter this code. Enter the code and click on the connect button.

Your mobile app will prompt you to enter your password. You can click on the override button to skip this step.

Now you will be able to see your Torrent downloads. In addition, you can pause, resume, delete or add new torrents from your mobile.
How to use uTorrent Auto Shutdown
If you are downloading huge files and need to leave your PC unattended, you might worry about shutting it down once the download completes (for example, if you want to be away from the device for as long as the torrent is downloading). You can easily schedule your PC to shut down automatically once your torrents have been downloaded.
Open the Options tab in uTorrent.
In the Options tab, click on the Auto Shutdown option.
It allows you to Quit, Hibernate, Standby, Reboot, and Shutdown your PC once the download completes.
The Quit option closes the uTorrent app only.
For each of these options, there is a choice between "when Downloads Complete" and "when Everything Completes". The first option applies the selected option once the downloads are completed; however, the latter applies when both downloads and seeding (to an amount you've set) are complete.
Conclusion
Torrents make file-sharing convenient, and uTorrent is a valuable tool used by millions as their go-to method to download torrents. As torrents are used for sharing a wide variety of files, you can find torrents for Movies, Games, Books, and even academic datasets and courses. In this article, we discussed using uTorrent for finding and downloading files. Besides the basics, we also touched on some of the advanced features which can significantly enhance your user experience. Although we discussed the steps for using uTorrent on PC, most of these features are also available on other platforms.